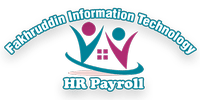 HR Payroll Cloud Software
HR Software
Payroll Software
HR Payroll Cloud Software in Abu Dhabi, Dubai, UAE
employee self service
payroll systems
manage employee
payroll solution
online payroll
payroll services
hr and payroll
payroll process
payroll benefits
employees benefits
HR Payroll cloud software by Fakhruddin Information Technology (FIT) makes tiring HR jobs in a few simple clicks. You don't need an expert to keep HR records! our HR Payroll software is so simple; anyone can check it. All your data and documents are in one section. reporting is a breeze, representative self-service saves you both time and energy, even now you have time to focus on people, not on paper. HR Payroll management software helps improve the performance and efficiency of the company by automating staffing, compliance, pay, recruitment and management processes. It consolidates all these components in a convenient position, making all representative data available to all associated staff.
HR Payroll software solutions by Fakhruddin Information Technology (FIT) have proven to be a significant asset in almost any business background. Even small, medium and large organizations are letting go of the idea that HR management systems are the expensive, lush extensions they don't actually need, because the long-term accumulation of HR automation protects far beyond the limit of what they would waste to produce a product.
There is no coordinated description of HR tracking software that could contain all the extraordinary perspectives of this mechanization, but by default it unites all personnel management and recruitment systems used to improve company productivity. The purpose of Fakhruddin Information Technology (FIT) Your payroll system software is to consolidate various administration and human resources processes in a centralized place from which the administrator can also assign tasks, evaluate and monitor progress, and compensate for the best performance in the company.
Fundamentally, HR Payroll software takes you a step further in improving decision-making and thus looks like a lite, contested cost.
How does HR management software functionality work? Not with standing of the HR products platform being among the most assorted software aspects, almost all HR Payroll software system packages come down to a determined assortment of management aims.