Features of HR Payroll
HR Payroll software by Fakhruddin Information Technology (FIT) help with payroll processing, as well as nominating candidates, attendance tracking, employee timesheet management, and more. Almost all HR tasks can be managed by our HR Payroll system.
Whether you're a start-up or a big enterprise, HR Payroll system by Fakhruddin Information Technology (FIT) can perform all HR activities such as Job application processing, Recruiting, Transfers, Benefits, Reviews, Vacation accrual, and Relocation documents. And that's all with just a single click! It is extremely easy to deploy, use, flexible, scalable, and most importantly value-centric.
Employee Lifecycle Management
Automate Employee lifecycle from Recruitment to resignation
Online and simple workflows for Increments, Promotions and transfers
Reduce paperwork, issue all employee letters online
Automate and simplify Employee dues Clearance and Full & Final activities
Companies:
Support one company or more.
Support one company or more.
Manage each company information and licenses
Manage each company insurance policies
Manage each company tenancy contracts
Manage each company all other contracts
Manage each company documents.
Print reports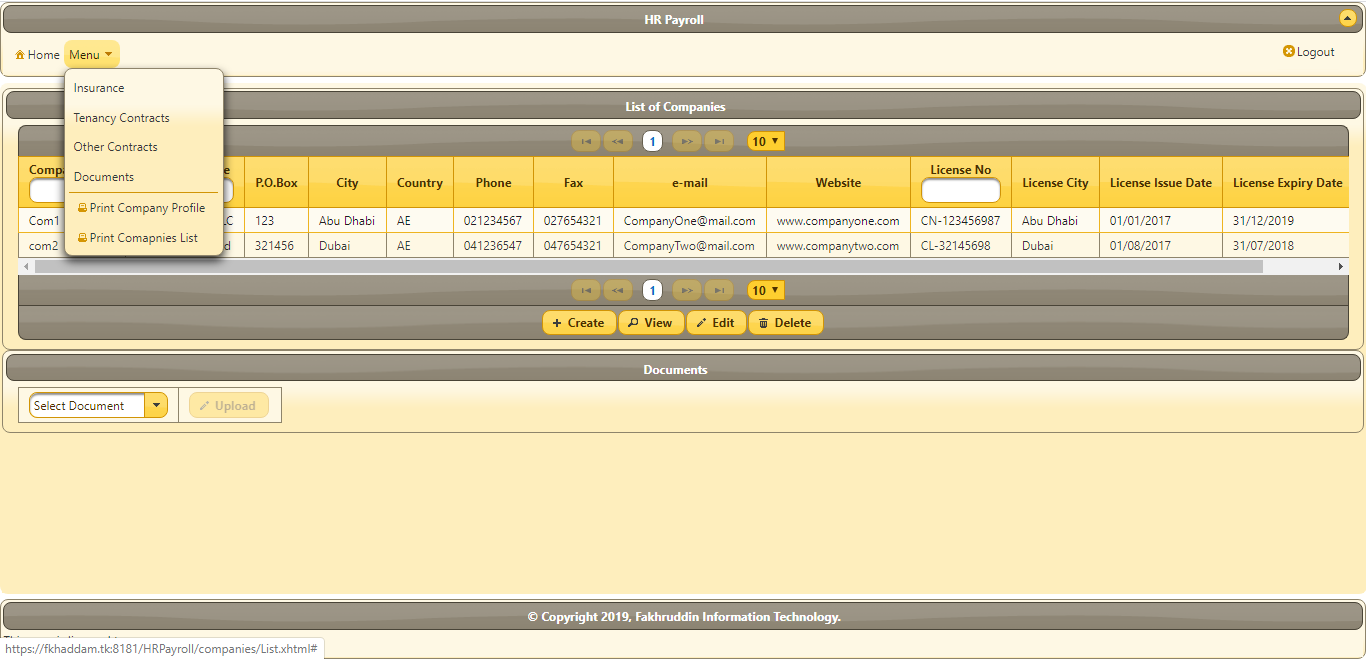 Alerts and Notifications
Get real-time notifications
Never miss any deadlines
Better for follow ups
Reduces Employee grievances
Employee Information system:
Gathering, storing, and accessing employee information and documents which includes:
Employee contact details
Employee Personnel data
Employee experiences records
Employee qualifications records
Employee salary and allowance/deductions and bank details
Employee leave approval system
Employee assigned leave categories
Employee leave records
Employee issued letters
Employee issued warnings
Employee possessions
Employee documents
Assign notifications permission if applicable
Import multiple Employees by excel sheet
Print reports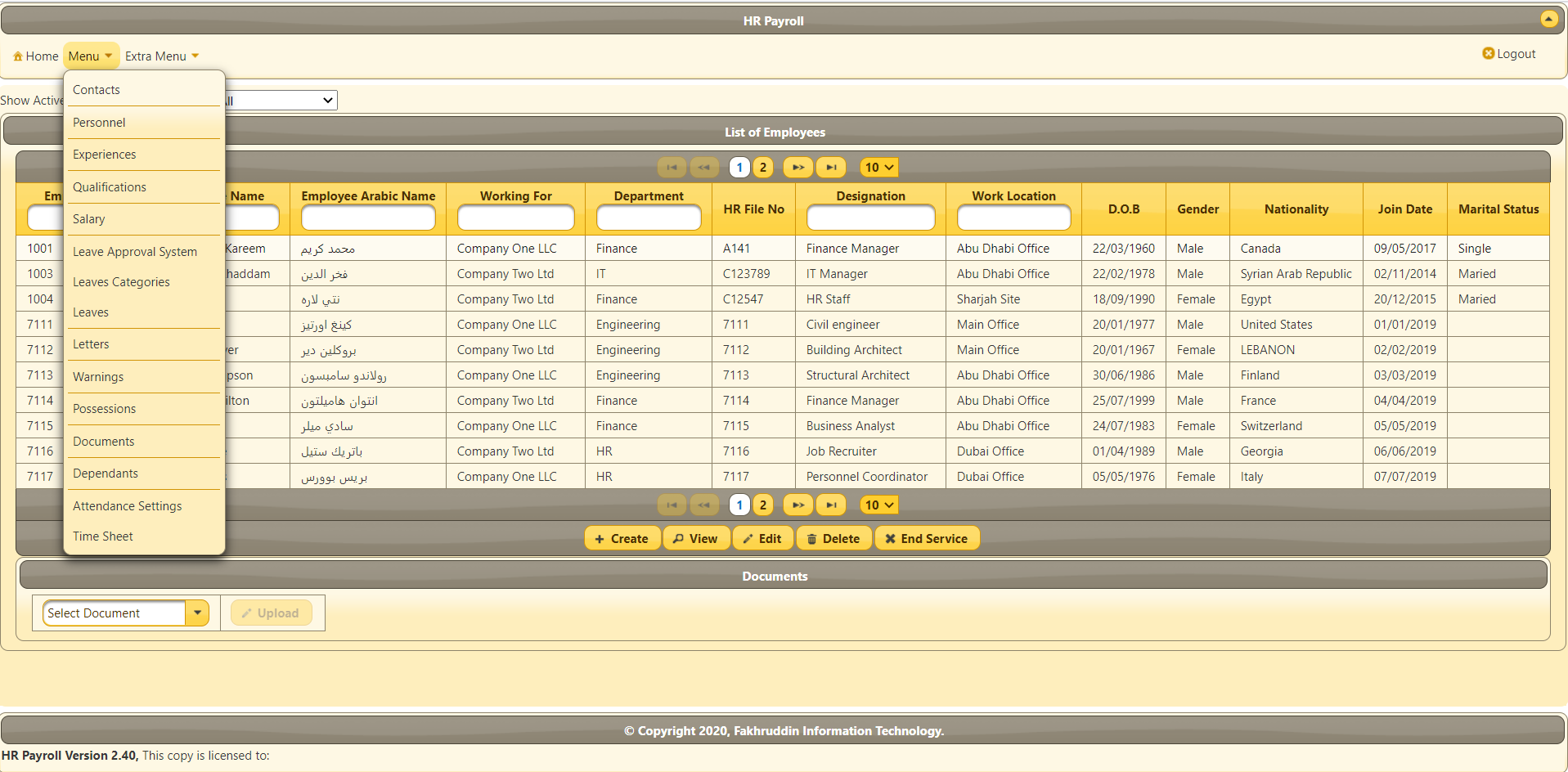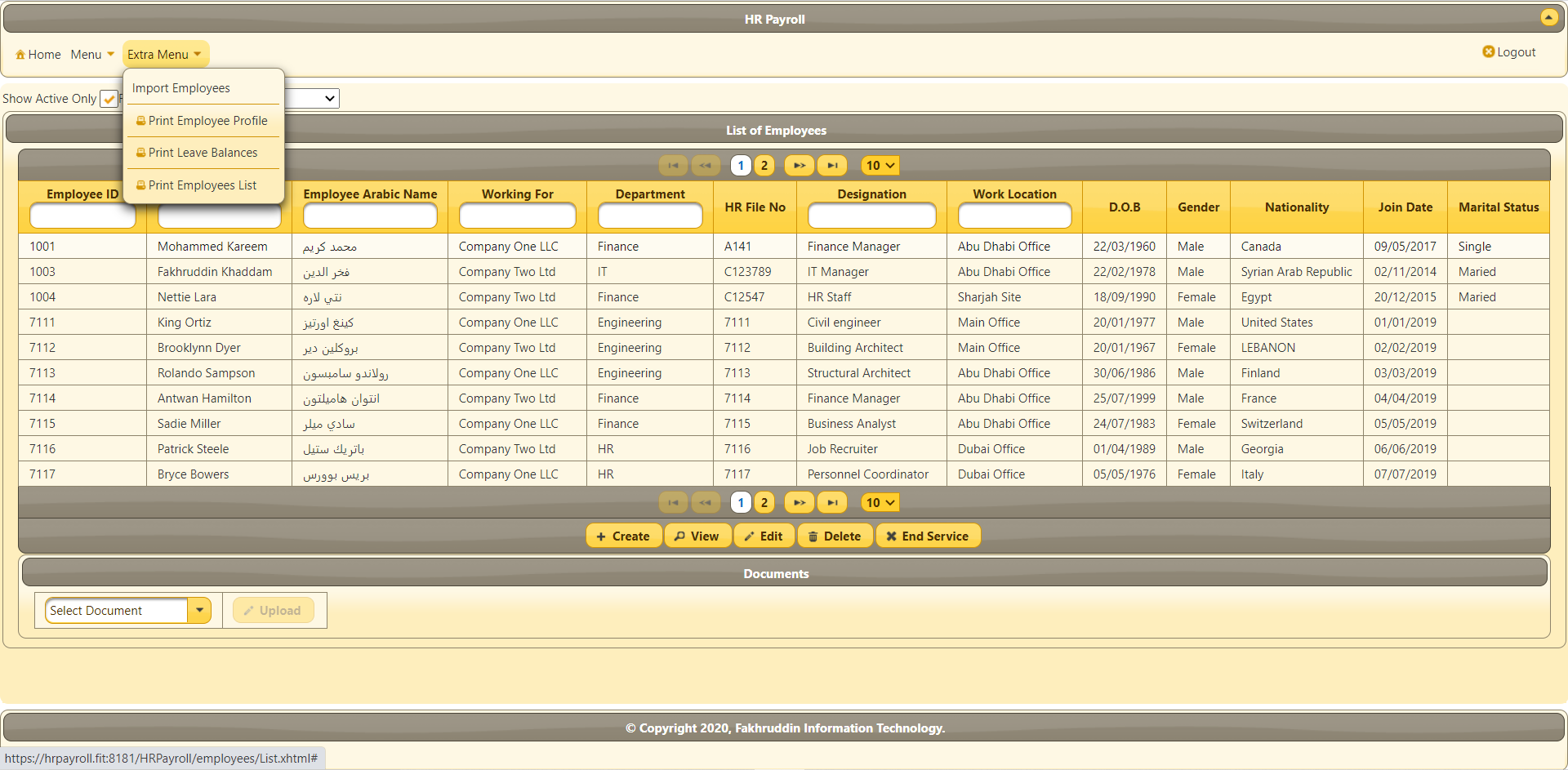 Payroll:
System for calculating the monthly salary, including the monthly salary, fixed surcharges and deductions, then manually or to automatically enter other allowances/deductions (add/remove) one-time transactions.
System for automatically/manually load overtime pay amounts.
Paycheck generation, print or email monthly pay to each employee manually or to all employees with a single click of a button.
Generating Payroll Information File is exactly in line with the Payroll Protection System WPS.
Generating final deposit calculations and looking at history.
Salary history, including bonuses and overtime.
Lock Pay for month to reject changes.
Generate Report for Payroll Register
Generate Report for Timesheets
Emailing Pay slips to employees.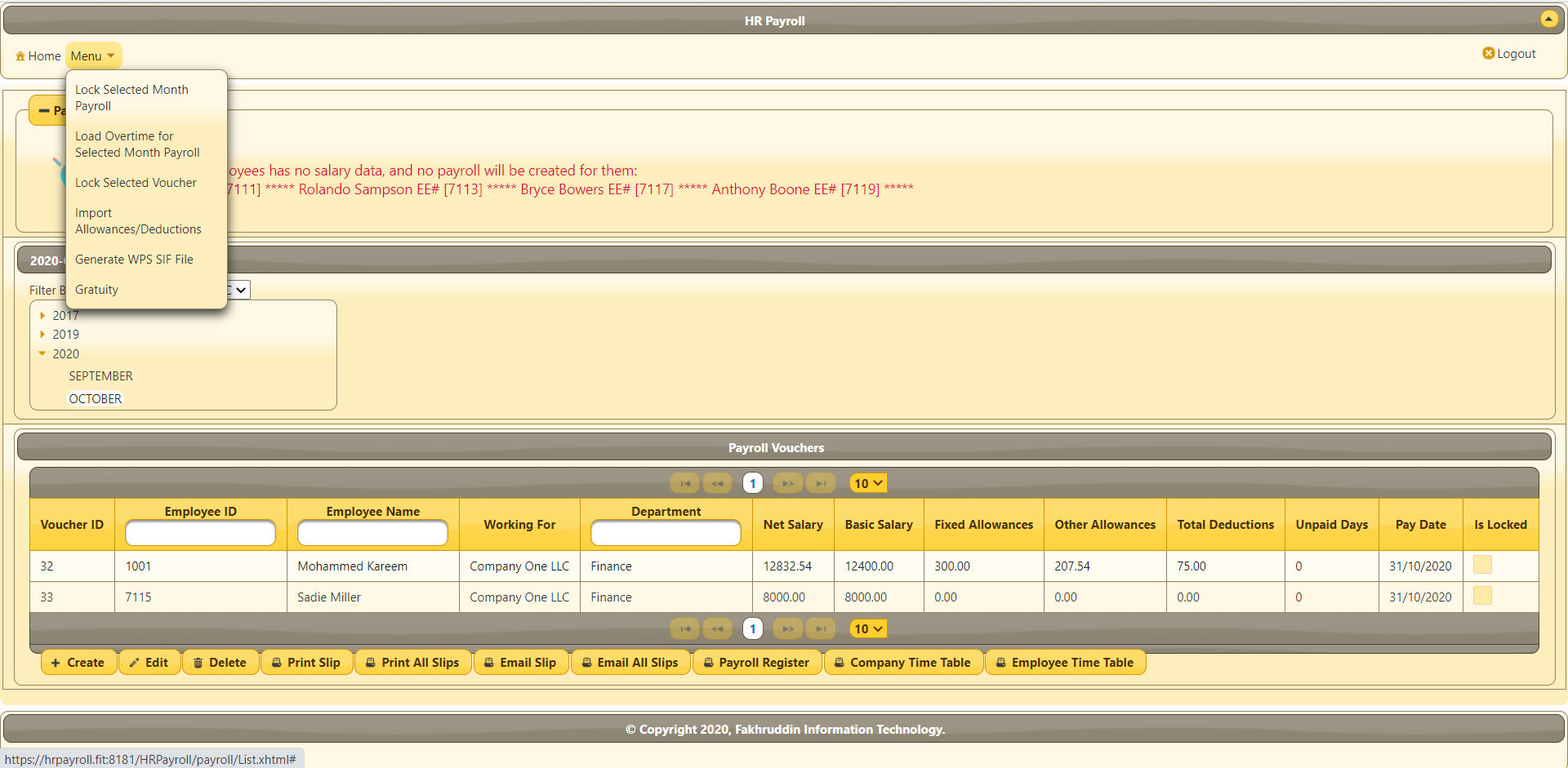 Employee Leave Management System
Say goodbye to leave requests scattered across emails.
Direct requests to the right people for digital approval.
Configure your leave policies in minutes.
Automated accrual and carryover.
Fully integrated with Payroll.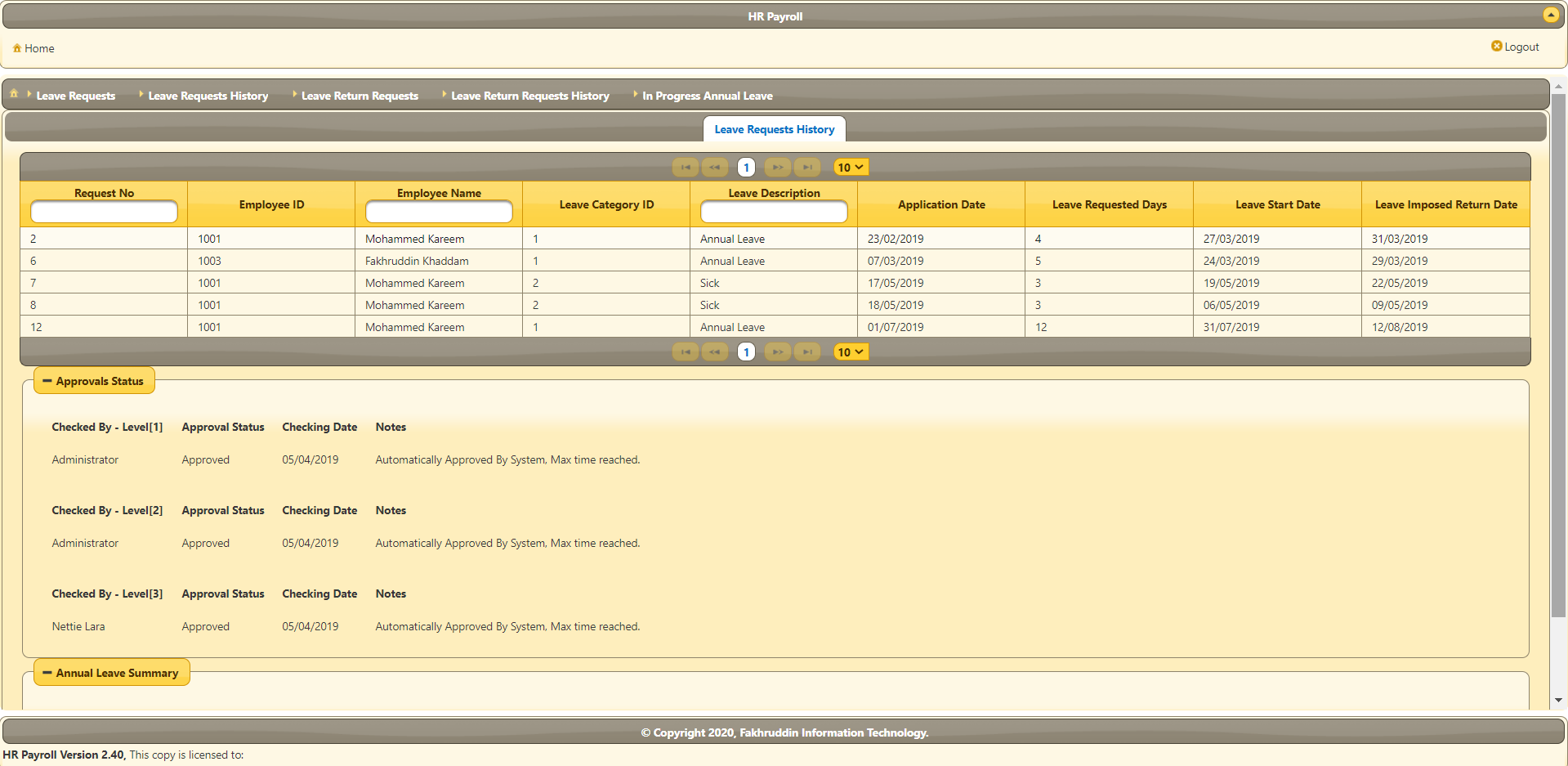 Asset Management:
Asset management maintains a record of assets issued to employees. Assets could include laptops, uniforms, cell phones, key cards, etc. Information in the employee asset record includes the asset type, number, serial number and date of issuance to employees along with the warranty and maintenance information. It helps to track the AMC or warranty expiry of each asset.
Asset Management Features
Detail Asset Tracking.
Asset Issue Management.
Asset Transfer from one employee to another.
Asset Return module.
AMC and Warranty Status.
Alters on expiry of warranty and AMC.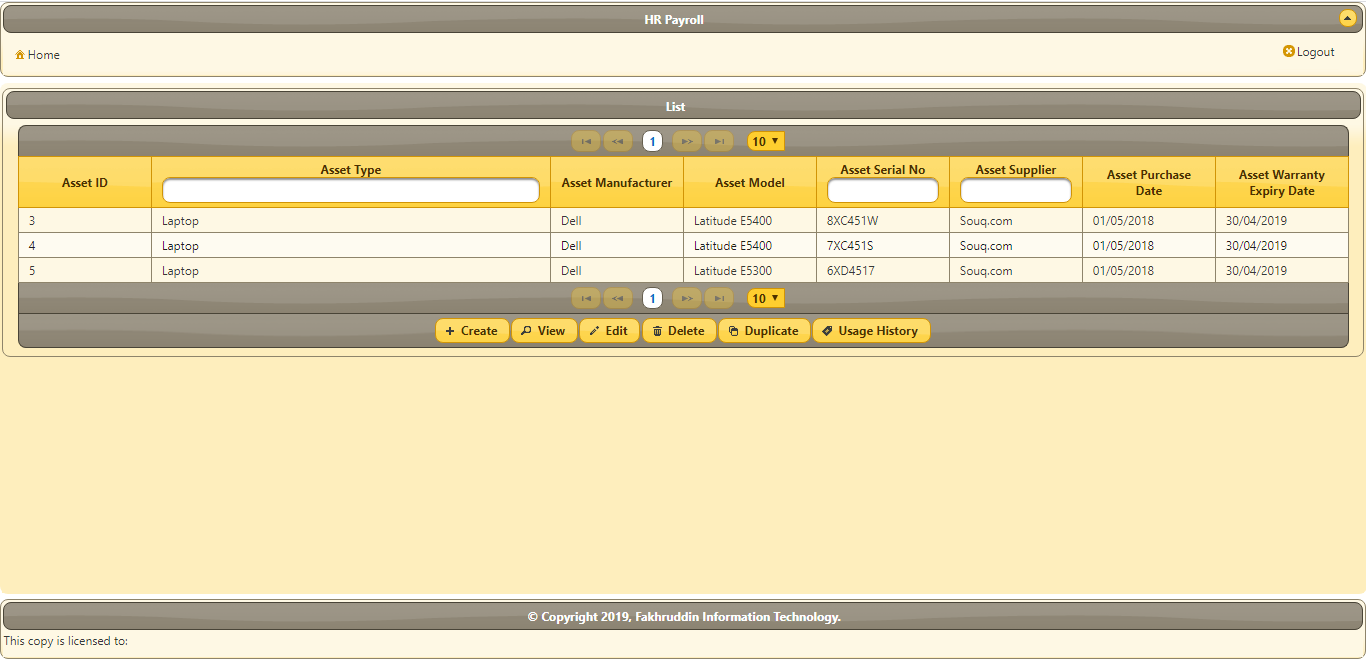 Public Relation Officer Transactions:
System to store and access all kind of Public Relation Officer PRO transactions for the employees and companies and their related fees and documents.
Transactions can be filtered by each PRO and supervised by manager.
Get total paid fees for sub transactions.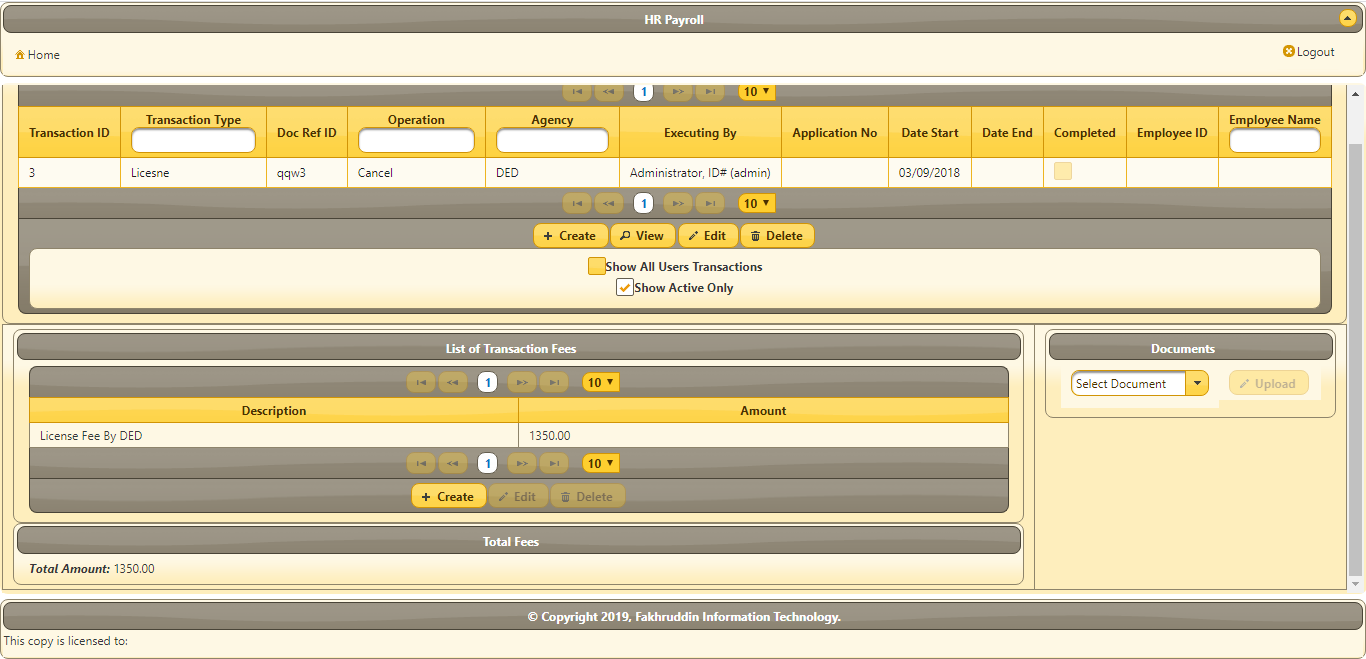 Administration Room:
Mange Group of Users permissions (Access to Modules).
Mange each user login details, group (Employee, HR Staff, HR Manager, etc..).
Manage/Test Email Sender settings.
User Activity Tracking System (Add, Edit, Delete, Approve, Reject activities).
Backup/ Restore Operations for Data and/or Documents.
Manage Folder Settings for Uploaded Documents and Backups.
Database Connection Settings /testing.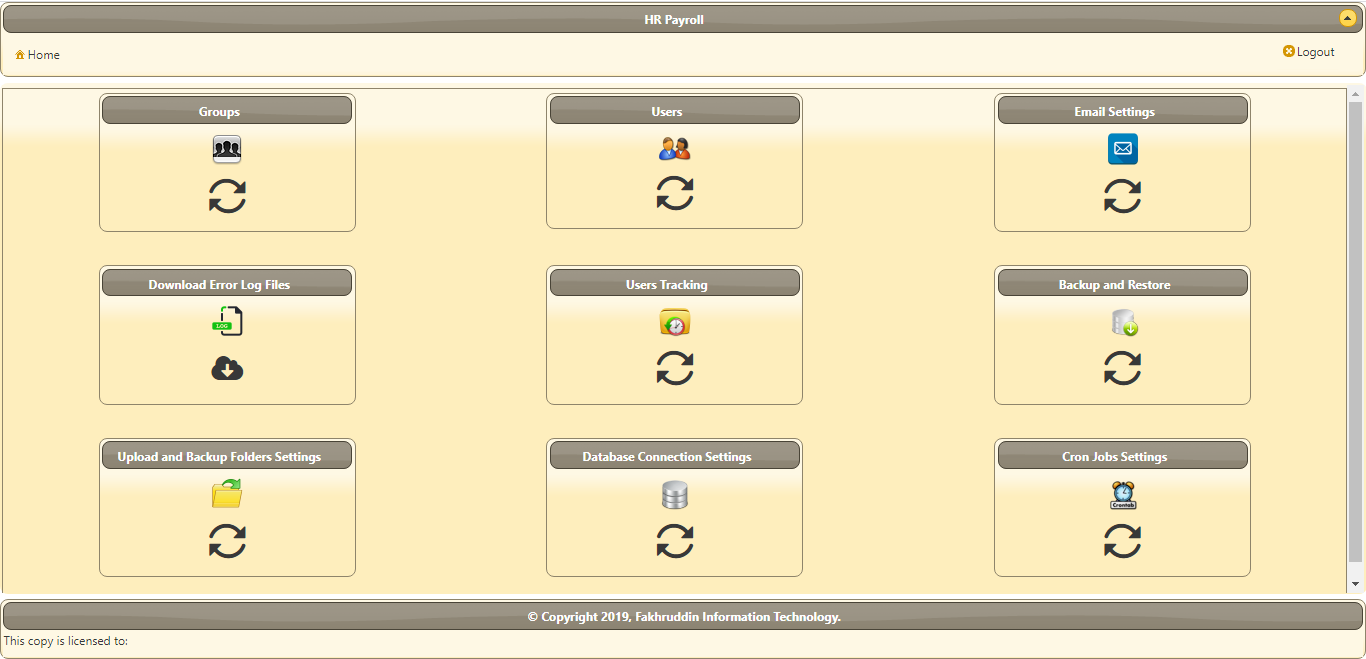 Employee Self-Service Portal ESS:
Each employee will be provided with login details to access his/her ESS portal to view/modify his/her information.
Employees to change personal information such as address, contact information, and banking information – though approval system.
Allow employees to submit time off requests and allow managers to approve these requests through series of approvals.
Intelligent Analytics:
You can't improve what you don't measure. Gather meaningful insights about your workforce.
Identify bottlenecks and make informed decisions.
Know the details that matter the most.
Customize your dashboard as per your need.
Vehicles:
Manage each company vehicles and licenses and insurance policies.
Manage each vehicle services visit and billing.
Manage each vehicle usage by employees.
Manage each vehicle documents.
Print reports.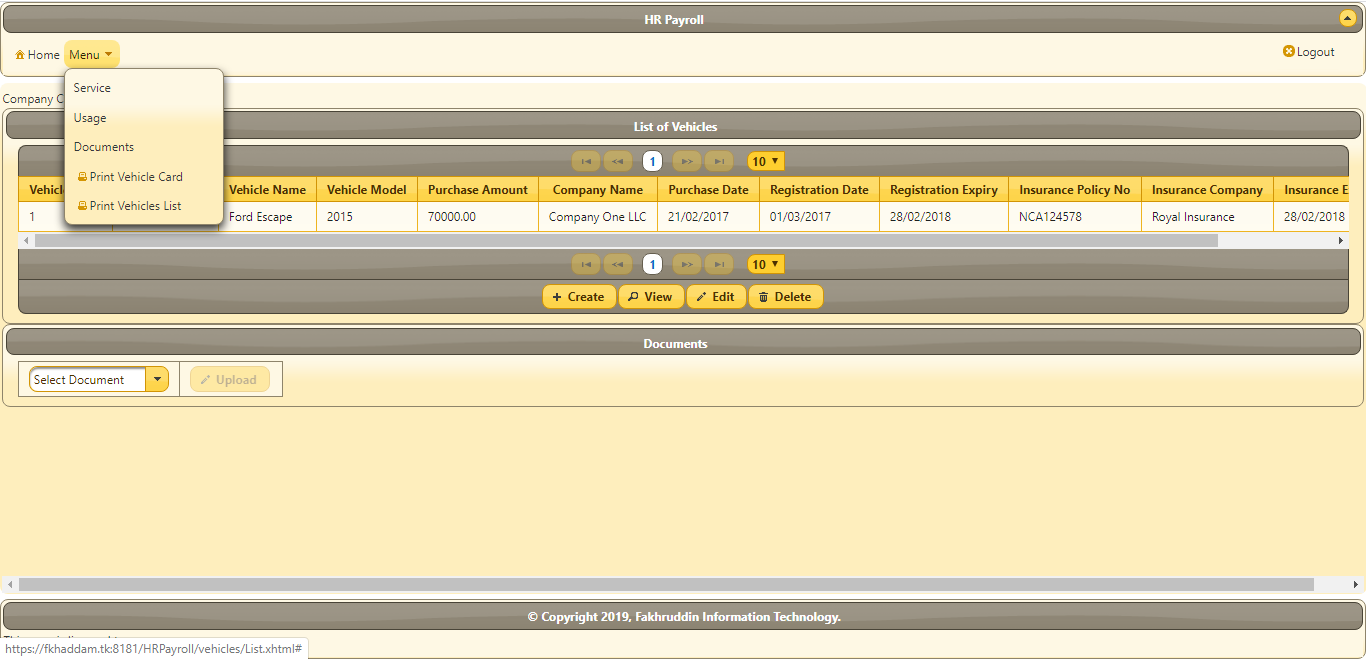 Top-Notch Data Security
Data security by encrypting the necessary fields containing sensitive data.
All information is handled using SSL security protocols to ensure your personal information is fully encrypted and securely stored.
Screenshots of HR Payroll Software